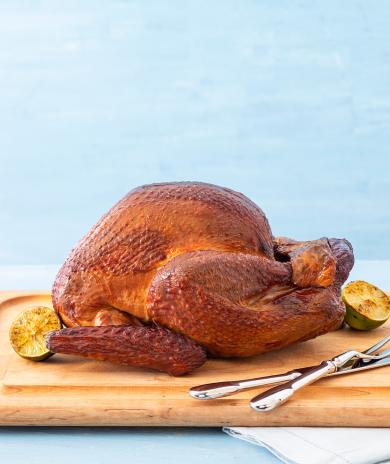 Butterball.com Privacy Policy
Effective date: October 19, 2022
This Privacy Policy applies to www.butterball.com and any other website (each a "Site") or program offered by Butterball, LLC, ("Butterball" or "we" "us" or "our") that Butterball links to or expressly makes subject to this Privacy Policy by Butterball. Review our Privacy Policy from time to time as we may update or change this Privacy Policy at any time for any reason without notice to you. By using this Site, you indicate your assent to all of the terms of this Privacy Policy. If you do not agree with any term of this Privacy Policy, please do not use this Site or submit any Personal Information to us.
Personal Information We Collect and Why
What We Share With Others

"Personal Information" is data that can be used to uniquely identify or contact a single person.

We primarily collect your contact information (including name, email address, telephone number and physical address) to be able to communicate about products and services you request from us. For example, if you sign up for a newsletter, we will collect your email address. If you make customer service requests to Butterball, such as communicating with us via the Turkey-Talk Line®, we may collect your name, telephone number and/or email address to be able to respond to your requests. If you enter a giveaway or contest we sponsor, or redeem a rebate or other promotional offer, we may collect your name, telephone number, email, and physical address to administer the promotion and communicate with you about it. If a promotion invites you to submit an image or video and that material shows you or others, we may collect the likeness in that material as part of the promotion.

If you wish to participate in some of the features and services this Site may offer, we may ask you to provide certain Personal Information.

For purposes of forums, discussion boards, certain promotions, and other public interactive areas that may be available on the Sites from time to time, you are solely responsible for the information you post or upload to our Sites.

We may use or disclose your Personal information to affiliates and third-party partners in certain joint promotional and marketing programs, and to our service providers to help us to manage databases of customer information, to assist us in distributing emails, to manage, protect and secure the Site, or to take precautions against liability. We may disclose information to outside companies that help us bring you the products and services we offer, in connection with any services or products you purchase from us, to your credit card issuer, credit reporting and fraud checking agencies. We reserve the right to disclose any Personal Information requested by law enforcement agencies or if we are required to do so by law, regulation, subpoena, court order, or by a government entity.

We reserve the right to transfer any information, including Personal Information, in the event all, or a portion, of the business or assets of Butterball are sold or transferred, including in connection with a sale, merger, consolidation, change in control, transfer of assets, reorganization or liquidation of our business.
Other Information We Collect
Whenever you interact with the Site, we, as well as our service providers, may use assorted technologies that automatically or passively collect data about how the Site is being accessed and used and help improve the user experience of the Site. This data may include browser type, unique number assigned to identify such device, operating system, application version, click path taken through the Site, your use of features or applications within the Site, and other usage information ("Use Data"). This information helps us manage, improve and customize the Site's features and functionality and may, in some instances, be used to identify you like personal information. Specifically, we use Google Analytics to help us understand how our customers use the Site. You can read more about how Google uses your Personal Information here: https://policies.google.com/privacy?hl=en. You can also opt-out of Google Analytics here: https://tools.google.com/dlpage/gaoptout. We may also use cookies to personalize your experience on our Site; you are free to opt out of cookies by adjusting your device or browser settings, but you may not have access to all Site features and functionality if cookies are disabled.
Do-Not-Track Requests; Third-Party Tracking
Unless your browser settings are configured to make your online activities and publicly available information about your online activities (such as traffic data as described above) invisible to usage analytics tools, we do not presently have the capability to omit you from usage analytics to the extent your browser sends us a "do not track" message. However, third parties, other than our vendors assisting with making the Site available do not have authorization from us to track your uses of the Site or track what other activities you may have engaged in before or after using the Site (for example, using a different website). That said, we cannot control third-party tracking and there may be some third-party tracking that occurs without our knowledge or consent.
Children
The Site and our services are not intended for use by children, and we do not knowingly collect personal information from children under 13. If we learn that we have collected the personal information of any such individual, we will take steps to delete the information as soon as possible.
Your Choices Regarding Use of the Information We Collect
If you would prefer not to be contacted about our special offers, products or services, or if your contact information changes (such as zip code, phone, email or postal address), you may correct, update or delete/deactivate your contact information at any time by notifying us, at your option, at the mailing address, e-mail address or phone number provided below:
Butterball Consumer Affairs
PO Box 1547
Kings Mountain, NC 28086
or
1-800-BUTTERBALL (800-288-8372)
Weekdays from 10 a.m. to 7 p.m. ET (Eastern Time)
or
Send Us A Message Using our Contact Us Form
If you choose to write to us, please include your name, address and any contact information that you want removed from our promotional contacts list, including phone numbers, and e-mail addresses, and state one of the following:
"NO MAIL OFFERS" (if you don't want to receive offers by mail);
"NO PHONE OFFERS" (if you don't want to receive offers by phone); or
"NO PHONE OR MAIL OFFERS" (if you don't want to receive either).
If you've signed up for mobile messaging (e.g., SMS and MMS) offers but later decide you no longer wish to receive them, simply follow the opt-out instructions included in the mobile message. Because customer lists generally are prepared well in advance of a communication you may continue to receive some offers after you send us a request not to use your information for specified marketing purposes.
Third-Party Sites
This Site may link you to other sites on the Internet which are not under the control of Butterball or its affiliates, including several sites operating under license by third party licensees that Butterball does not control displaying the Butterball® brand. You acknowledge that Butterball is not responsible for the accuracy, or any other aspect of the content of sites it does not operate, including those operated by third-party licensees. Your accessing the links to any other sites is at your own risk and subject to the applicable privacy policies and terms and conditions of such websites.
Notice to Residents of Countries Outside the United States
We are headquartered in the United States and this Site is directed to a U.S. audience. If you are located outside of the United States, be advised that any information you provide to us will be transferred to and stored in the United States and that, by submitting information to us, you explicitly authorize its transfer and storage within the United States.
Your California Privacy Rights
Pursuant to Section 1798.83 of the California Civil Code, residents of California have the right to request from a business with whom the California resident has an established business relationship what types of personal information, if any, the business shares with third parties for direct marketing purposes by such third parties and the identities of the third parties with whom the business has shared such information in the immediately preceding calendar year. We do not currently share any personal information with third parties for direct marketing purposes by such parties. If you have any questions, comments or requested related to this Section, please contact us using the information in Section 10 ("Contact Us") below. A number of states are currently considering enacting laws similar to the California law above. If you are a resident of a state that enacts such a law, please use the contact information above to contact us with any questions, requests or comments.
Updates
We reserve the right to make changes to our Privacy Policy from time to time for any reason. Such changes, modifications, additions, or deletions shall be effective immediately upon posting unless otherwise indicated. Your continued use of this Site or our programs subject to this Privacy Policy after changes are posted will be deemed to constitute your agreement to and acceptance of such changes.
Contacting Us
If you have any questions about this Privacy Policy, please contact Butterball Consumer Affairs via the contact us link on the Site, write to us at Butterball Consumer Affairs, P.O. Box 1547 Kings Mountain, NC 28086, e-mail us at [email protected], or call our Consumer Affairs Department at 1-800-BUTTERBALL (800-288-8372) weekdays from 10 a.m. to 7 p.m. Eastern Time.